BOOKS
BOUND ODYSSEY
The year is 2067 and Earth is self-destructing from environmental cataclysms. A portal to a new world is ripped open and refuge there is Earth's only hope. Enter Jace, cowboy diplomat, who is preparing for the negotiation of a lifetime. A sexually conflicted alpha male, he hates everything with a cock, especially himself. The last thing Jace expects is to fall in love with both a woman and a man.
His dark history presents the ultimate challenge to Mira and Roman, the sexual Dominant team hired to prepare Jace for the female-dominant culture of the new world. Tragedy has made Mira distrust her Mistress abilities. Survival is her priority, and she resists her deep attraction to Jace's haunted eyes and sculpted body.
Roman, however, falls hard and fast for Mira and Jace, ready to honor Mira as his Mistress and force Jace to recognize him as Master. Bound in one another's chains and pushed to the limits of arousal and pain, they must outrun sabotage and conspiracy to find salvation for their bodies, souls and hearts.
Read an excerpt here.
REVIEWS, AWARDS AND PRAISE
Here's fantastic praise for the story from Night Owl Reviews:
"Michelle Polaris brought this world to life from the very first page and kept me spell-bound until the very last sentence. Her depiction of a post-apocalyptic is careful, gritty, and all too believable — it definitely sets a compelling stage for Mira, Jace and Roman's story. I really enjoyed how Polaris brought me into the BDSM world, being clear about its rules without doing info-dumps or coming across as if she were writing a sex manual. Mira and Roman were beautiful to see together and Jace definitely complements them — I couldn't see him with even just one of them from the start. The background of their romance keeps pace with the heat of their relationship, and I really appreciated that neither took a back burner to the other. Polaris has a tight, fast-paced plot that would stand just as well alone without the romance, which made the entire book a pleasure to read. I can't wait to see if there's a sequel to this, can't wait to see if Jace, Roman, and Mira made it." — Kyraninse, Night Owl Reviews, 4.75/5 Reviewer Top Pick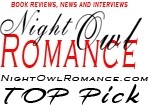 And another kick-butt 5 star review from Just Erotic Romance Reviews (JERR):
"I thoroughly enjoyed reading Bound Odyssey and had a hard time putting it down once I got started. Ms. Polaris started the story off with a strong push and kept the momentum going…As I got to know each of the characters, I couldn't help but fall in love with each of their individualistic, charismatic yet dark personalities…The interaction between all three characters was well presented and the sex was simply delicious. I highly recommend Bound Odyssey to readers who enjoy the BDSM genre. It was very well written and explores the mindset of the Dominant and slave relationship beautifully." — Anna Edwards, Just Erotic Romance Reviews, 5 Stars
Here's one more from Seriously Reviewed:
"Mrs. Polaris,
You have the D/s kink factor down to a fine art! Combing the pain and pleasure into a pleasingly pretty picture! Hot and steamy with a touch of "YES MISTRESS!" The world building is brilliant…This story had me on the edge of my seat (for more reasons than you think)." — Seriously Reviewed, 18 out of 20.
And one from Alternative-Read.com:
"I will start this off by saying if you are looking for something light and sunny-this ain't it. If, however you are looking for a good story with plenty of meat, intensity, and a plot with purpose, this one will do just fine. Three people thrown together to save the people of the world, their own souls and sanity who have to wade through betrayal, conspiracy and fear. I like a book with grit and this one has it in spades, along with some intensely beautiful D/s scenes." –WitchGiggles, Alternative-Read.com
I was thrilled to be gushed over in Joey W. Hill's November 2009 Newsletter.  Here's what she wrote after reading Bound Odyssey:
"Have You Read This Author?
I just returned from a week's vacation, where I was only permitted to read books, sleep, eat badly and do nothing. It was torment (laughter). Anyhow, sometime during December, just as I did on my last vacation, I plan to blog about what I read (see Blog News below). I'm pleased to report I did read some excellent books.
However, I was so blown away by one of them, I want to share it here. As some of you know, I recognize talented writing, but I don't really gush about many books. It's hard to knock me off my feet, because I've just edited way too long. For that reason, when I find a book I really love, I will gush from the rooftops. So it's my pleasure to highly recommend Michelle Polaris's very first published book, Bound Odyssey, released by Ellora's Cave. This book is a BDSM menage, set in a futuristic time period. The three main characters – Jace, Roman and Mira – get right into your heart, very quickly. I'll let you go to her site or EC for the blurb, but trust me when I say the author has an incredible grasp of not only D/s psychology, but human relationships. I fell in love with these three. She made them so real, it felt like I was in the room with them. And the truly complex character was Roman, who was submissive to Mira, but a Master to Jace. Intriguing, hmm? I'm not a huge futuristic fan, but even on that, Michelle pulled me in and made the setting become an intrinsic part of the plot, rather than an irritating distraction. The only criticism I had of the book was that the ending was too abrupt, but that may be because it's wide open for a sequel. So much so, I emailed Michelle and threatened her if she didn't start working on one RIGHT NOW. (laughter). If the quality of this book is any indication, we are in for a lot of wonderful reads from Michelle Polaris." –  Joey W. Hill
And another little gem of praise I'm thrilled to receive:
"Bound Odyssey is a powerful physical and emotional journey that will leave you breathless."  -Dalton Diaz
  Two Lips Reviews contributed this review:
"…Where to begin talking about Michelle Polaris's Bound Odyssey?  To start, this is a big book – both in length and in ambition.  Ms. Polaris's plot is huge, and she develops it well.  Her world building – Earth 2067 – is vivid and believable.  The characters, from the vulnerable Mira to the hypocritical bureaucrat villain Randolph Moore, are well rounded and dynamic.  While there are some rough patches toward the beginning, the further into Bound Odyssey I ventured, the more the story gripped me. 
Michelle Polaris takes her time in developing the three main characters, so that by the time Mira is willing to admit her feelings for Roman and Jace, we understand her conflict and reluctance.  Likewise, it makes complete sense why Jace would need a woman like Mira.  The most interesting character, however, just might be Roman.  A surprisingly un-traumatized sexual switch (he enjoys playing both the D and the s in a D/s relationship), at first I expected him to be a fairly bland Polyanna of a man.  Instead, Ms. Polaris surprised and delighted me by creating a strong, stable man who'd been through his share of tragedy, had his share of scars, but had worked through them.  In many ways I think Roman was the strongest of the three characters, and he made it possible for them to finally realize their mutual need.  My only "big" gripe with Bound Odyssey is its very abrupt ending.  Having invested so much emotion into the relationships, I felt a little bit robbed of the payoff.  That said, I've heard rumblings that future visits to Earth 2067 (where we left Jace's ex, another fascinating character who needs a story – hint, hint), and Eve's World might just satisfy my craving.  Over all, a fabulous, thought provoking read.  I highly recommend it!" — Angelina, Two Lips Reviews, 4 1/2 Lips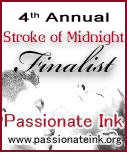 Bound Odyssey finaled in the 2009 Passionate Ink Stroke of Midnight contest.
It has also recently finaled in the 2010 5th Annual Passionate Plume contest for published authors through the Passionate Ink chapter of RWA. The winners of this contest will be announced this summer at the RWA national convention in Orlando.
And here again is my amazing video book trailer posted on YouTube. Special thanks to Nina Pierce for designing this gem. She comes with strong recommendations from me.
<—–>
MAGICIAN'S CHAINS
Jesse and Savin shared one strange, hot kiss and an even stranger mystical connection over a decade ago. Now reunited at a BDSM-flavored erotic magic show in Las Vegas, Jesse finds Savin performing as the Dominant magician. He's one sexy, powerful package, and Jesse fights the call to expose himself to Savin, giving up body, soul and heart. But dark fae nightmares prophesy a more dangerous magic than stage tricks at work as their lives collide.
Jesse has given up on his dreams after a personal tragedy. Savin's only dream is to be human, although he is not. Drawn to one another, the men enter into a weekend Master/slave contract. In Savin's chains, Jesse submits, letting loose destructive passion and grief. Both resist the craving to make their bond permanent, sure that if they do they place one another in jeopardy. If they cannot accept the magic they create together and their joined destinies, the survival of two worlds will be at stake.
Read an excerpt here.
REVIEWS, AWARDS AND PRAISE
Here's a snippet from a wonderful review by Night Owl Reviews who made it a Reviewer Top Pick:
"…One of the things that I really liked about this book was the complexity of the storyline. I deliberately decided to not get into the mystery that surrounds Savin's true existence and the world that he comes from because that is one of the reasons why I became intrigued with the story itself, and I truly do not want to spoil it for anyone. I will say that the world that the author created was very descriptive, and easy to visualize. It was as if I were there experiencing it with them, and I honestly hated for the book to end…." — Daisiemae, Night Owl Reviews, 4.5/5 Reviewer Top Pick
And an amazing one from Rainbow Reviews:
"…The surprising conclusion ends the tale with a "bang" of tension and heart-thumping connections. Love is the answer and the love that comes between Jesse and Savin is a thing of beauty. Polaris expresses her talented writing in depth and textures that enhance the reading thoroughly. Readers interested in otherworldly genres, in hot gay sex, or in well written BDSM fiction, will enjoy and relish this book and thank Polaris for sharing her understanding and writing magic." — Chris P, Rainbow Reviews, 5 Stars
And finally a wonderful review by Literary Nymphs Reviews:
"Michelle Polaris' Magician's Chains will please those who enjoy fantasy, as well as BDSM. The story is strongly written, pulling the reader in from the beginning adn leaving them wanting to know both men's secrets….The chemistry between these two men is very intense. Be prepared as they burn up the pages almost from the beginning." — Critter Nymph, Literary Nymphs Reviews, 4.5/5 Nymphs
<—–>
FETTERED LOVE
Part of the 1-800-DOM-help series.
Kirk, Master to his long-time lover Evan, decides it's time to place his permanent collar around Evan's sexy cock. But when he proposes, he faces a surprise. Evan wants a child. So where will they find a kinky woman to help?
A mysterious card with the 1-800-DOM-help number advertises assistance for unusual problems in the BDSM community. When Evan calls, he recognizes the voice of the Mistress from their past. Sarah—Kirk's best friend from childhood, Evan's Mistress of several years in college. They both loved her and suffered betrayal when she walked out of their lives.
Now she proposes to be the mother of their child. No strings, just a chance to have the men she respects and loves back in her life. Evan embraces the idea while Kirk rages with mistrust.
At Evan's request, they share one night of passion, Kirk and Sarah working together to dominate Evan in the scene of his erotic fantasies, hoping it will be enough to rekindle trust and make all their dreams come true.
Read an excerpt here.
REVIEWS, AWARDS AND PRAISE
Night Owl Reviews gave Fettered Love an awsome review:
"What a wonderful story. This is the first time I have read a story by Michelle Polaris but it won't be the last. Her characters and story telling is wonderful…" — Greendragon of Night Owl Reviews, 4.74/5, Reviewer Top Pick
Thanks to Delphine Dryden for producing a kick-ass video book trailer for Fettered Love: